SPECIALIZED CLEANING FOR HEALTHCARE ENVIRONMENTS. WHEN ONLY THE BEST WILL DO.
Proper cleaning and sanitizing is crucial in healthcare environments and medical offices. Healthcare facilities require more than just basic cleaning and maintenance—they require specialized cleaning, sanitizing and disinfecting, and knowledge of the healthcare industry and its specific requirements.
ServiceMaster Clean is a commercial cleaning company that has been a pioneer in the field of innovative cleaning and disinfection programs focused on the specific requirements of the health care sector. As far back as 1962, we began providing healthcare facilities with the specialized professional cleaning, disinfecting and sanitizing services necessary to maintain optimal health and safety standards.
As our world has changed in so many ways in response to the COVID-19 pandemic, we continue to bring new and better ways to maintain cleanliness, safety and health standards for the healthcare facilities we serve with our Patient-Centered Cleaning Program.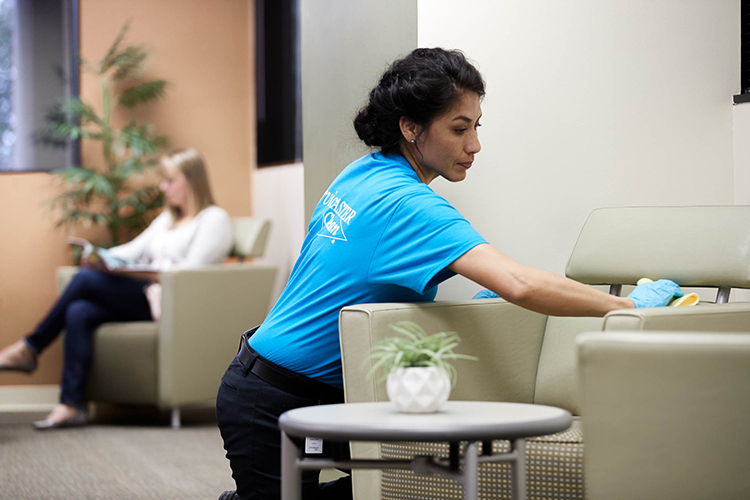 PIONEERS IN SPECIALIZED CLEANING FOR HEALTHCARE. SERVICEMASTER CLEAN CONTINUES TO INNOVATE IN THE INDUSTRY.
In addition to our regular janitorial cleaning services such as trash collection, dusting, damp mopping, restroom care, floor and carpet care, window washing, and more, ServiceMaster Of Edmonton JMS provides the following professional cleaning and disinfection services specific to health care and medical settings:
Checking and changing privacy curtains
Thorough cleaning and sanitizing of stairs, entrances and other high-traffic areas
Meticulous cleaning and sanitizing of exam and procedure rooms
HEALTHIER CLEANING METHODS.
ServiceMaster Clean has the expertise and resources to implement effective preventive cleaning, disinfecting and sanitizing protocols within healthcare facilities to help prevent outbreak and transmission of infectious disease.
The ServiceMaster Clean Capture and Removal Cleaning® system combines advanced equipment and microfiber technologies to dramatically decrease airborne dust, volatile organic compounds (VOCs) and bacteria resulting in a healthier environment for both staff and patients. Our cleaning and sanitizing technicians are highly trained and all our products and processes are aligned with Health Canada requirements and recommendations.
EXTENSIVE ENVIRONMENTAL SERVICES (EVS) TRAINING
Our proprietary ServiceMaster Clean cleaning for healthcare training series ensures that our staff and technicians are able to properly provide specialized cleaning, disinfecting and sanitizing services customized for your specific facility.
CLEAR COMMUNICATION + HIGHLY TRAINED STAFF
At ServiceMaster Clean, our emphasis on clear communication with customers sets us apart from other healthcare cleaning and sanitizing services companies. We ask the right questions and listen closely to your answers to deliver your requirements and standard of cleanliness, the first time…and every time.
Exceptional cleaning, disinfecting and sanitizing in healthcare facilities begins with having excellent staff. We recruit and hire individuals who are highly suited to working in medical care environments. We then train our cleaning and sanitizing specialists intensively on patient protocol and hold them to the highest standard of conduct.
Did You Know?
Do I have to sign a long-term contract?
A contract is not a requirement. ServiceMaster Of Edmonton JMS will develop a detailed proposal and task schedule that will both meet your needs and budget. At any time, you can make adjustments to your cleaning requirements, and your representative will then make changes as needed and advise of any pricing revisions. You may also cancel your commercial cleaning service with 30 days written notice
Will the changeover to ServiceMaster Of Edmonton JMS be smooth?
With 70 years of commercial cleaning experience, we have perfected the transition of service from your previous cleaning vendor. With thorough planning; we will make the changeover a seamless process. The only difference you will notice is the obvious improvement in service and standards.
Do you supply everything required?
We supply all the labour, equipment and materials required to carry out the tasks as would be outlined in our agreement with you. You may also exercise the option of having us provide various consumable goods for your facility such as toilet paper, paper towels, hand soap, etc. at their added cost.